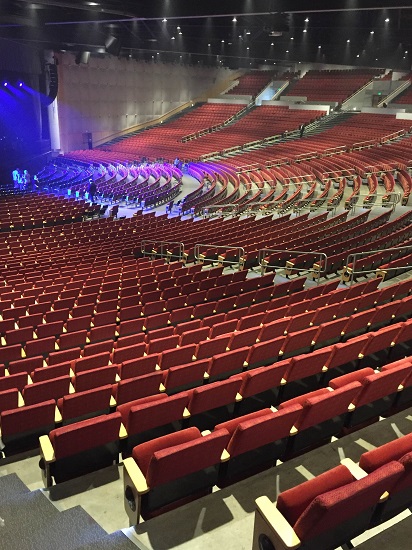 Meghan Trainor Untouchable Tour VIP Experience
On Tuesday, July 26th at the Bellco Theatre in Denver, Colorado, your very own First Class Fashionista had the privilege to see Meghan Trainor live in concert as a VIP guest!Tampax was a proud sponsor of this sold out concert and had a very unique set up within the lobby of the theatre. Tampax and Always Radiant had a booth dedicated to the ladies where they could try on Meghan Trainor's dresses and shoes.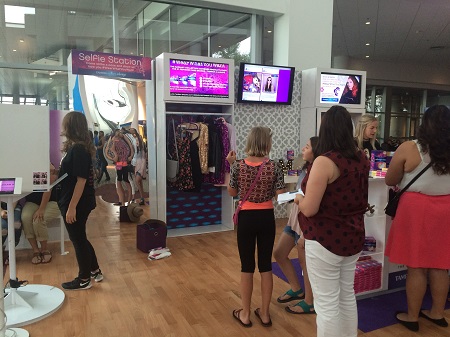 There was also a photo booth available to take pictures while wearing the looks. If you want to see more pictures, the hashtag was #WearWhatYouWant. The inspiration for this sponsor and the onsite booth was young girls and women can stay confident in their favorite looks with the radiant collection.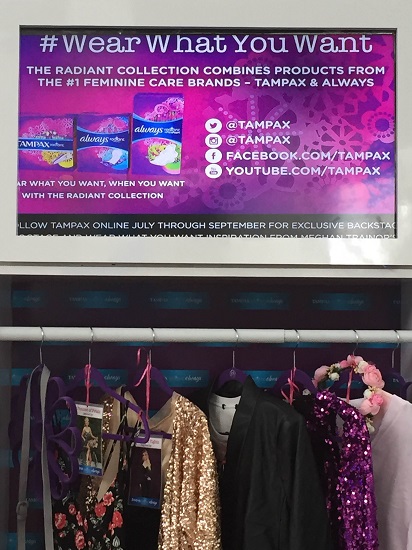 As the show began at 7:00pm, there were two artists who performed before Meghan Trainor. The first to perform were the Common Kings; a Reggae band from Costa Mesa, CA. The Common Kings really enticed the stage for the night. They put everyone at ease with their relaxed catchy tunes.
I have to say their music was very age appropriate for the group of people attending. Most of the people at this concert were young ladies from age 4-18.
The next special guest was Hailee Steinfeld. You might recognize Hailee from her very popular song "Love Myself". She is not only a musician, but she has also been in quite a few movies. To name a few: Pitch Perfect 2, True Grit, Term Life, and 3 Days to Kill. Hailee has more of a pop tone to her music. She was a great artist to open the stage up for Meghan Trainor.
As Meghan Trainor hit the stage, the crowd went wild! I almost wonder if they were as loud as at a Justin Bieber concert? Trainor opened the stage with her song, "Woman Up"…The theme throughout her concert was GIRL POWER, CONFIDENCE and the importance of family and friends. Alongside Trainor were some amazing back up dancers who were on point the entire night.
A few classic songs she sang were: Me Too, All About That Bass, Like I'm Gonna Lose You ft. JR King, Dear Future Husband and Lips Are Movin.
Me Too
Like I'm Gonna Lose You ft. JR King
Dear Future Husband
All About That Bass
Lips Are Movin
Hopeless Romantic
If you met Trainor in a full room of people, she would not strike you as a woman with a $2 million dollar networth. She would strike you as a down to earth girl who is bubbly and excited for life. She also sang her songs "Mom" and "Dance Like Yo Daddy", both of these songs shared how important her family is to her.
Another song she performed was about her friends. During this song, there were images of her and her actual friends having a great time doing normal activities girls her age should be doing. This goes to show that she has a tight knit group of friends who have supported her through her entire journey. In so many of these clips, she was working in the studio, showing how hard she has worked to get where she is today.
During the concert, First Class Fashionista discovered a secret talent of Ms. Meghan Trainor that we didn't know about- She can play the banjo. During her performance of "Just a Friend to You" she showed all her fans how truly talented she is.
Just a Friend to You
Trainor's theme throughout the night was very retro; from her catchy tunes, to her multiple wardrobe changes, all the way to the background images. This concert was a blast for me being a 25 year-old-woman. I can only imagine how exciting this concert was for a cute little four-year-old girl, in which, there were quite a few of them at the concert.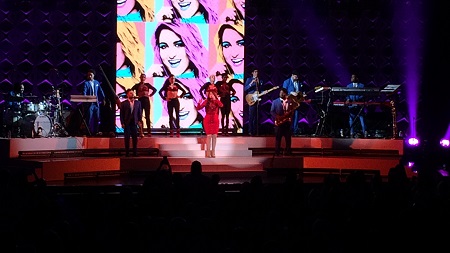 Something I really enjoyed about this venue was that every seat was a good seat, there was no need for a large projector showing every movement of the artist for people way, WAY in the back. Another thing. During intermission, between Hailee and Trainor, the line for the girl's bathroom was about ¼ of a mile long…something you don't see at every concert. All in all, you can see why this concert was sold out. Meghan Trainor has so much talent and is a great influence for the young girls out there trying to find themselves and what is important in life.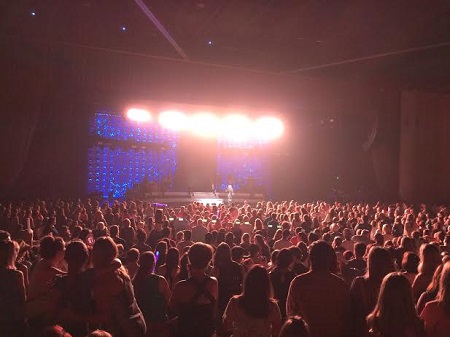 Sold out show.
As always, thank you so much for reading and please comment below. Shout out to Tampax for sponsoring this event and giving FCF the privilege to attend and cover the show. WE HAD SO MUCH FUN!