Posted at First Class Fashionista
Michael Kors Spring 2011 New York Fashion Week
The Michael Kors spring 2011 collection was featured on the runway at the Michael Kors Spring 2011 fashion show during Mercedes-Benz Fashion Week held at The Theater Lincoln Center on Wednesday, September 15, 2010.
The Michael Kors Spring 2011 Runway Fashion Forecast: A fresh, but relaxed and casual look. We see a lot of white and khaki with a bit of grey being added to the wardrobe. Leather belts and sandals are the season's must-haves. A Micheal Kors trench coat may also be added to the relaxed and casual look for spring.
We really hope the half-shirt / belly out shirt isn't making a comeback!
Click to view larger images of the Oscar de la Renta Spring 2011 Fashion Show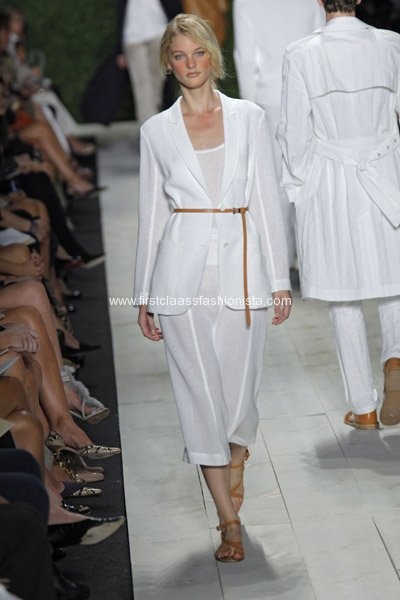 It's all according the the buzz…Here is where you can tell thousands of people what you think. Share a comment with thousands of visitors at FirstClassFashionista.com. Is this First Class Fashionista Hot or Not? *First Class Fashionista is Copyright Protected. First Class Fashionista permits a direct homepage link and credit.
First Class Fashionista would like to invite you to shop: Discount Designer Clothes
Discount Designer Shoes
Discount Designer Handbags
*BOOKMARK THIS SITE for Updates* Michael Kors Spring 2011 New York Fashion Week
Related PostsOscar de la Renta Spring 2011 Fashion Forecast#NYFW New York Fashion Week Spring 2010 ScheduleCynthia Rowley Spring 2011 Runway Fashion Forecast #NYFW