I'm a summer girl. I especially like wearing sundresses and cute sandals. People I know will often ask me if I dressed up to do whatever it is I'm doing that day and I am quick to say, "No". Then, I really enjoy explaining how easy it is to slip into a maxi dress when the weather is warm. Truth is, I get a little sad when it's time to say goodbye to summer but another season for fashion perks me right up.
Fall layering can be fun. I loved the way these shorts were styled at AllSaints when I visited their NYC store in August. Add a suede handbag and this look is fab for fall. So, fashionista, don't store-away your tank tops and shorts just yet.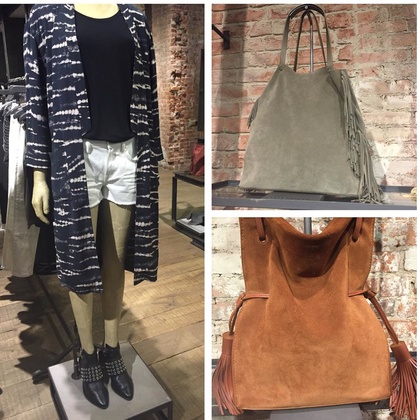 Let my favorite It Girls show you how to wear your summer basics (including maxi dresses) into fall. BTW–There's a new, surprising crop top trend to watch. Click the FULL STORY arrow below.
Check out It Girl–Approved Ways to Wear Summer Basics Into Fall

by FCFashionista at Mode
This post is sponsored by Mode, where stories inform and inspire.