Are you interested in fashion? Are you ready to adopt a pet? If you have answered "YES" to either of these questions, this is an event you will not want to miss!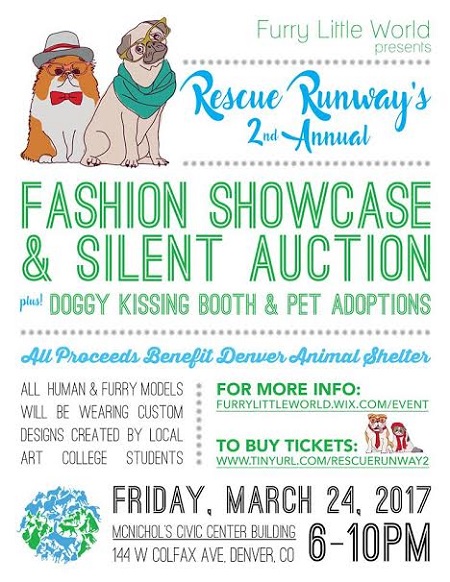 Friday, March 24th, 2017 will be an exciting night for all fashion enthusiasts and adoptable pets. All proceeds from this event will benefit the Denver Animal Shelter.
The 1st Rescue Runway was a huge hit in 2015, the fashion show and silent auction raised $4,000 for the Denver Animal Shelter and every single animal was adopted that night (7 dogs and 1 ferret). This was not only an exciting night for the animals, but the students from the Art Institute of Colorado, who were able to show off their fashion designs. You can check out my review of the 1st Rescue Runway here.
This upcoming Rescue Runway is anticipated to be even more exciting and entertaining than the last! I do suggest purchasing your tickets  here while they last because, when you involve cute puppies and dogs in any function, the seats are projected to fill up fast! The 2nd Annual Rescue Runway will be located at the McNichol's Civic Center Building at 144 W. Colfax Ave. Denver, CO 80202 on the night of March 24th!
The event will take place from 6:00-10:00 pm and, within this time, you should expect:
Mingling and networking with fellow fashion fanatics
Attending the silent auction, showcasing gifts and packages such as lift tickets, hot air balloon rides, gift baskets, etc. If you're a fan of the show Finding Bigfoot, this will be an event you don't want to miss (just sayin).
A runway filled with the cutest and sweetest adoptable animals dressed in fashion designs created by students and alumni from the Art Institute of Colorado.
Something new about this year's Rescue Runway is there will be a doggy kissing booth!!!!!! Imagine getting to snap your photo with some very loving pooches from the Denver Animal Shelter!
To find out more about this event click here
This is going to be an exciting night and I'm so thrilled to be a part of it! We at FCF hope you, your friends and family will join us for this great cause! Also if you know anyone looking for a new family pet, this would be an awesome way to get them acquainted! As always, thank you so much for reading!