It's the start of the new year, so it's time to revisit gym etiquette. Gyms around the country can be close to capacity this time of year and it's even a mess in the parking lots. Regular gym goers have come to expect this annually and many resent everything about the flood of incoming new and trial-period members, fueling what's referred to as the "Regulars vs Resolutioners" feud. Regulars will often rally together and newcomers will hear them chant, "Don't worry it will be back to normal in a few weeks." You've seen them at the water cooler or in the group fitness studios talking.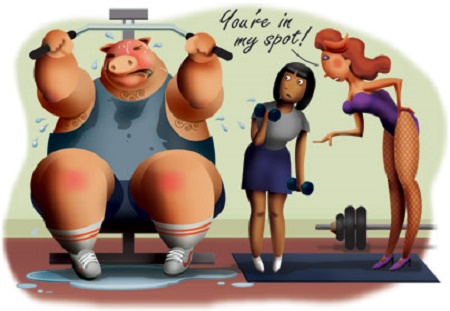 Photo Source: Today.com Photo Credit: Duane Hoffmann / msnbc.com
The first rule in our Gym Etiquette 101 handbook is: Check your negative attitude at the door. People come to the gym to try to feel better about themselves. It's absolutely no place for negativity. No exceptions, ever. Recall when you were brand new to the gym? Many gym regulars consider the gym their second home, which is all the more reason to be a welcoming ambassador, right?
Below is your complete guide to gym etiquette all year-round, sourced from the best advice columns and articles. Guide includes the importance of sharing, acceptable locker-room behavior and what to wear. This story was originally published to Mode.com, where stories inspire. Just click the "Full Story" arrow. As always, thanks for reading!
Check out Gym Etiquette for the New Year

by FCFashionista at Mode