This year Red Ball produced an extravagant experience for all hair and fashion lovers! If you missed this event, let me tell you about it.
Red Ball 2015 took place at the EXDO Event Center, on November 29th. This event is produced to raise money and awareness for the Denver Colorado AIDS Project. This year we had 15 local designers, 14 local salons and 75 of Denver's most beautiful up-and-coming models. With a successful silent auction to start the show and raise some big money, the bubbly and always entertaining Brandi Shigley was the MC of the night. She helped the fast talking auctioneer, Kevin Rutter, find some forever homes for some very rare and expensive items.
AND THE SHOW BEGAN!
Kicking of this exciting event was Parasite Eve Designs. The hair and make-up of their models was created by Studio. The designs of Parasite Eve were very avant-garde and showed exquisite dress styles.
AnnaFesta partnered with Bell & Beau Salon to show off some very colorful designs. AnnaFesta did something very unique during their time on stage. Each model was holding a large petitioning banner, which expressed a statistic or fact about AIDS. With one banner in particular that said, "THERE IS NO CURE." This was a very moving experience during the show and reminded everyone why we were all at Red Ball supporting this very important cause.
Some of the next designers showed off amazing designs on stage. These designers and salons include Julia Rhoden Designs with D'Ametris Aveda, Jaymie's Touch with Serenity Salon & Spa and James ETC with Scarlet Salon. Each of these designers showcased 5-6 ensembles with each model's hair and make-up showing the style imagined by the designers.
The 6th designer to warm up the runway was Studio Yoshida, with hair and make-up by Halo Salon. This designer showcased a geisha meets military style within each look; revealing a bright colorful palette, in design styles of Kimono robes and Obi wrist bands.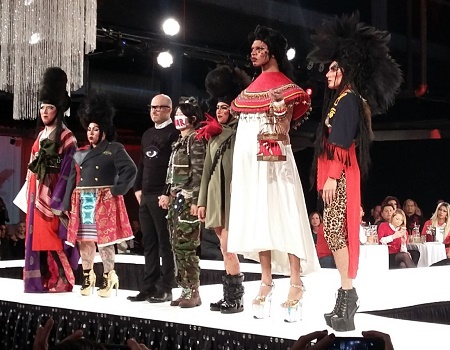 I want to congratulate a very close friend of mine who had the opportunity to walk for this designer, Madeline Haenel.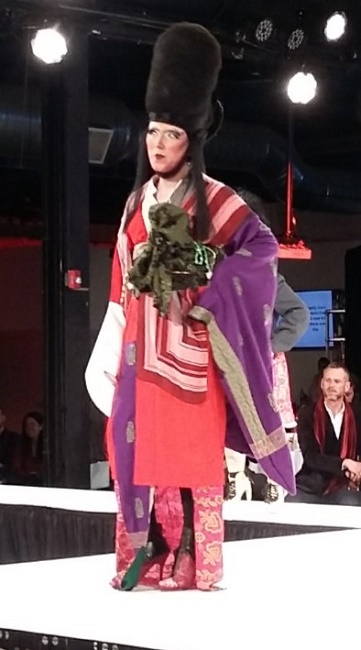 Next to hit the runway was R:15 with hair and make-up by Ergo Aveda Salon. This presentation showcased an element of fright, as each model had shocking red eyes! These looks gave a futuristic feel with geometric style lines.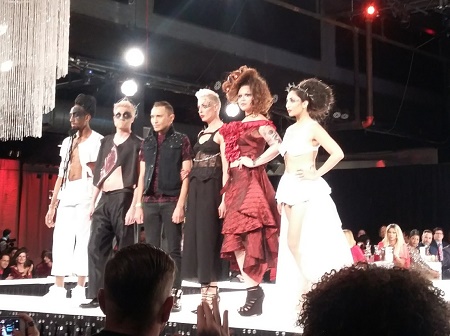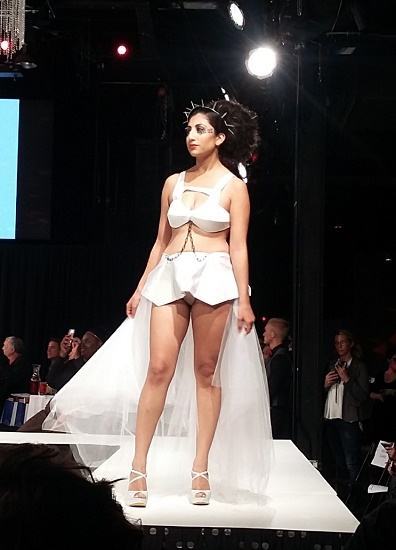 This next young lady has been a supporter of First Class Fashionista for years now and we were so happy to see her present on stage; Rachel Marie Hurst. Accompanying her designs was make-up created by Casandra. As her models hit the stage, the music changed to a bouncy beat which reminded me of children playing in a school yard. Her designs were dresses of life-size porcelain dolls. I really enjoyed Rachel's designs they were so "little-girl" like.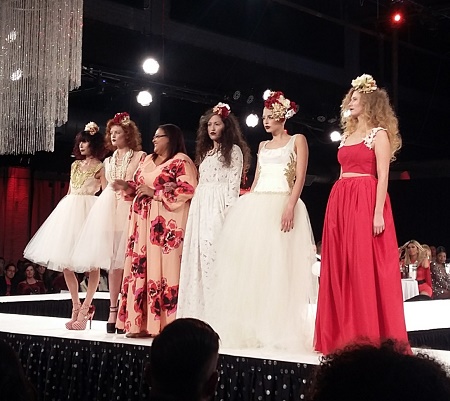 Lucky Lady Designs and Fleur Salon captured the audience with some fresh styles and chic dress designs. To continue the commotion was Infernal Contraptions Apparel with Room for Style Beauty Salon. These designs looked like they just walked off a Las Vegas show, in the colors of red to vibrant purple. Also to add, the hair was amazing with sky-high Mohawks!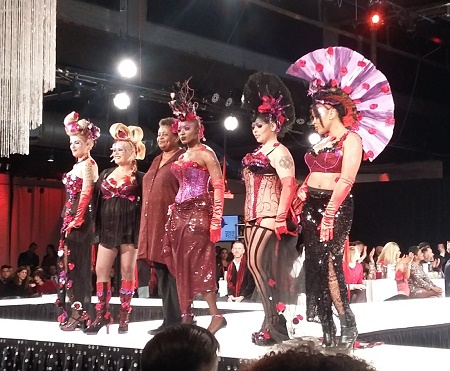 As if this show wasn't entertaining enough, the next designer to honor us with his presence was Kimono Dragons with salon help from Vanity Dollz. His designs were outstandingly animated in the story of three Japanese warriors protecting their precious queen and geisha princess.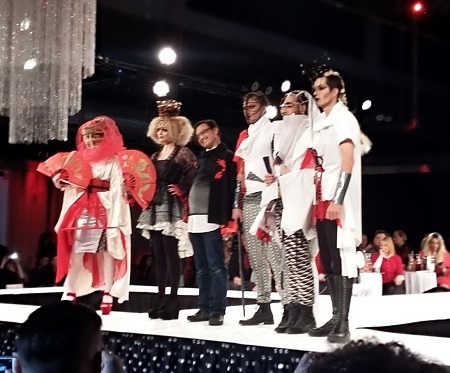 Another huge support of FCF, who delivered her unique designs made with elegance and class was Gabriela Designs with hair by Planet Laboratories.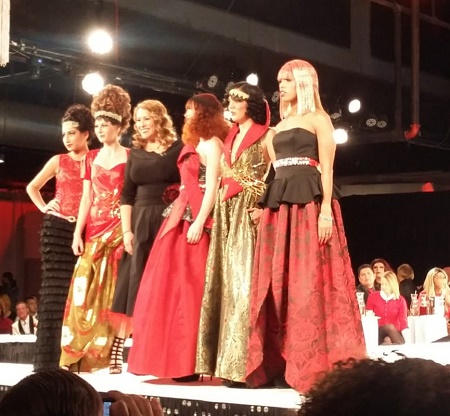 Red Ball always has a way of pushing the limit when producing their fashion shows. YOCISCO was the designer of the night who pushed the limit by showcasing his line of men's underwear.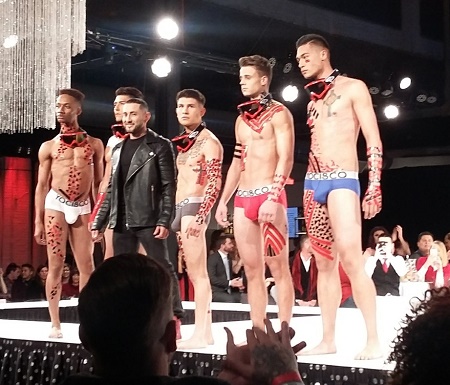 To capture the audience with his dazzling designs was Gino Velardi and hair by 3rd Ave. Studio. This man brought some culture to Red Ball with his plaid-tastic designs, showcasing the Scottish elements of kilts and belted accessories.
To end this amazing show with a BOOM! D'Lola Couture emerged onto the stage with her stunning ballgown designs, which were accompanied with hair by Henry's Salon. It seems like these designs were in the making for 5-years! This was an amazing showcase and it spoke to the true work of a real couturier.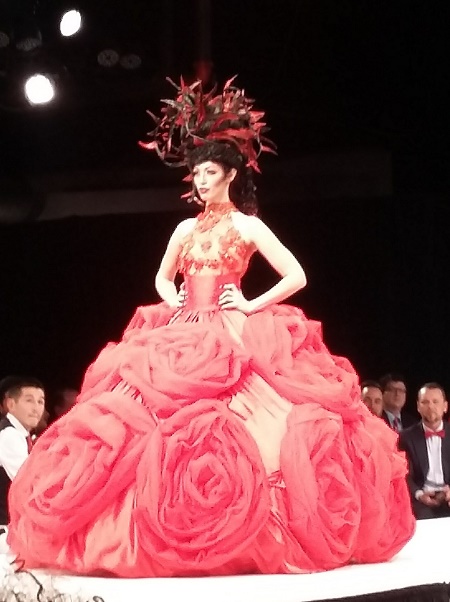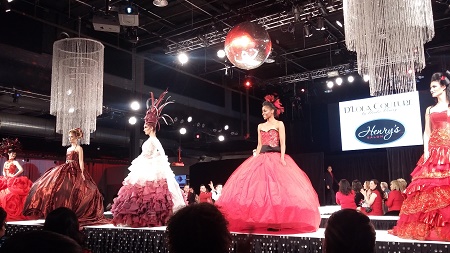 This was an extremely wonderful event and I hope everyone in Denver gets the chance to attend Red Ball at least once in their life. It was such an amazing experience to see these beauties start dancing on stage after the final run.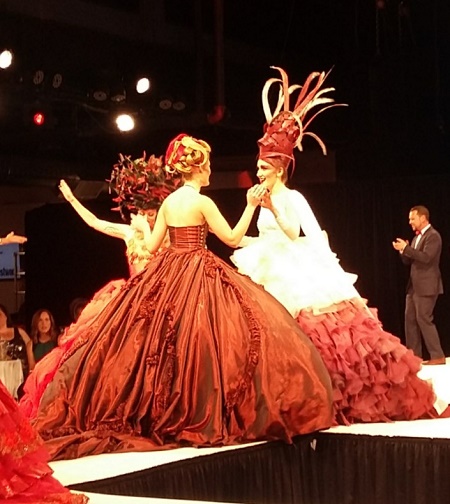 I want to give a special thank you to Andrew Kimmell for offering me tickets to attend this remarkable show.
As always, thank you so much for reading and being an FCF follower!