Denver fashion enthusiasts get ready for an uber amazing show Thursday, September 5th, coming to the Space Gallery in the Art District on Santa Fe. The Barrera International Autumn/Winter 2014 Collection Preview promises to dazzle and amaze. 22 year old Juan Jimenez is the truly talented, trail-blazing Barrera International designer who recently graduated from Johnson & Whales and interned at Tom Ford.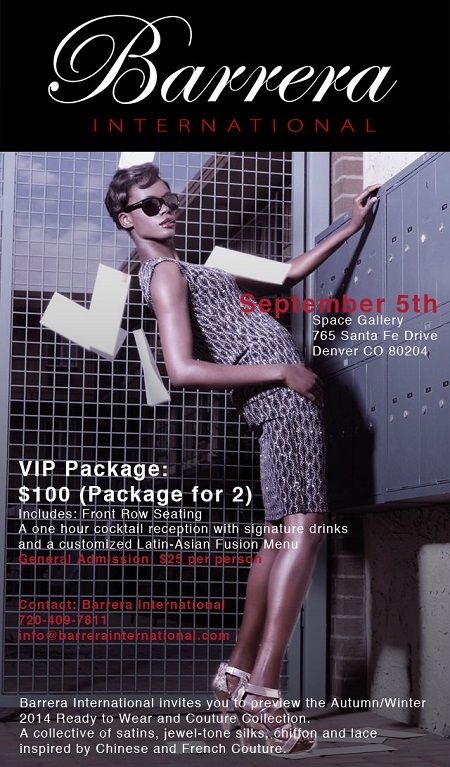 Guests will be in awe as his Asia meets French Couture collection is unveiled in a runway presentation unlike any other in town! This will be Jimenez's second solo show, and it will not disappoint. The runway presentation will formally introduce the designer's Menswear collection and feature the latest in Barrera International Ready to Wear and Couture concepts.
"Every piece in the collection has been cut, assembled, stitched and sewn by hand to achieve perfection. From luxurious evening gowns to simple staple pieces, be sure to find a wide selection of items to covet. The beauty of this and every Barrera collection will be the availability to customize every look and make each piece unique." –Barrera International.
Join boutiques, Barrera International clients, fashion bloggers, stylists and media to celebrate luxury in style and glamor. Doors open at 8 P.M. for a VIP hour reception that includes a Latin/Asian fusion menu and specialty themed cocktails, private parking and front row seating. Black tie attire mandatory.
For ticket information visit http://barrerainternational.eventbrite.com or info@barrerainternational.com
Haven't yet decided if this is the event for you? Check out the video (upper, left) to get an idea of the experience Barrera International provides for fashionistas and fashionistos alike.